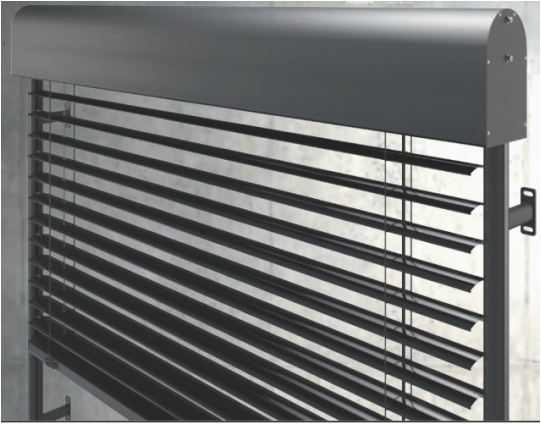 Venetian blinds are one of the best shading solution that allow you to control the amount of light coming into the room. By adjusting the tilt angle you can obtain desirable shade level and improve comfort of the room. Our venetian blinds are an efficient barrier against temperature and UV rays. By reflecting the sunrays the blinds protect the interior from heating up and the furnishing from fading.Venetian blinds are a great addition to the building architecture, giving it modern and contemporary look. The blind slats are offered in wide range of colours and two types of profiles: "C" 80 mm wide and "Z" 90 mm wide.  The cover panels come in wide variety of shapes and colours that ensure aesthetic appearance. Possibility of using weather sensors and electrical drives additionally increases the functionality of the system.​The blinds consist of flat movable slats made of 0.42 mm thick aluminium tape. The slats are stove-enamelled which guarantees their resistance both to weather conditions and mechanical impact during operation. Thanks to a solid construction and sturdy guide rails, cover panels, and mounting brackets, the system is stable and hard-wearing. Furthermore, all the components used in the production process are highly durable and resistant to weather conditions.
An external shading system REFLEKSOL helps to keep constant comfortable temperature in rooms exposed to solar radiation. At the same time, the application of blinds like Refleksol enables reducing of air-conditioning and, as a consequence, building operating costs.Through their properties, Soltis and Polyscreen fabrics used in case of our roller blinds guarantee an effective optical barrier to the light coming into the room and eliminate contrasts still preserving good visibility of the exterior.The application of an adequate shading system enables to enhance individual architecture of a building. Moreover, a rich offer of fabrics of numerous textures and colours as well as the possibility to lacquer the construction provide the possibility to fit the roller blinds into the surroundings. Mounting the Refleksol inside the building can create even a complete black-out effect, e.g. in cinemas or lecture halls. An optional use of weather control protects the roller blinds from variable weather conditions. ​A solid aluminium construction and high quality fabrics made of durable polyester fibres coated with PVC ensure prolonged use of a roller blind.
Awnings provide excellent visual and thermal comfort. Awnings are made of the highest quality components and serve not only as protection, but also as a decoration.
Properties:
Construction made from extruded aluminium
Flyer's chains in the arms
Universal brackets for wall and ceiling installation
Simplified mechanism of tilt angle regulation
Easy operation with the use of full automatic
Possibility of using telescopic front bar support
The Sunbreaker system is a highly efficient external shading system, which can also serve as a decorative part of the building. The blades and guide rails are made of thin-walled extruded aluminium, which makes the whole construction lightweight, yet durable. Sunbreaker is a mobile system with a blade rotation range from 0 to 90 degrees; it can be fixed both horizontally and vertically.
Sunbreaker is a perfect way of making a building more architecturally attractive and for reducing energy consumption from air conditioning.
Sunbreaker clip consists of lightweight and durable blades made from extruded aluminium. This system can serve as protection from the sun as well as a decorative part of the building.